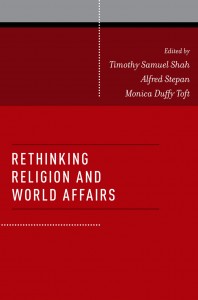 On Tuesday, May 1, the Berkley Center for Religion, Peace, and World Affairs will host the launch of Rethinking Religion and World Affairs, featuring a panel discussion with the volume's editors, Timothy Samuel Shah, Alfred Stepan, and Monica Duffy Toft, and three of its contributors, Michael Barnett, Thomas Farr, and Katherine Marshall.
The volume, which emerged from the SSRC's Luce Foundation-funded work on religion and international affairs, gathers a range of interdisciplinary essays that seek to question and remedy the problematic neglect of religion as a factor in international affairs.
Too often steeped in a secularist mindset, academics, policy makers, and opinion shapers have only just begun to reckon with the varied impact of religion on global politics, society, media, gender issues, diplomacy, and economic development. Rethinking Religion and World Affairs documents how scholars, policy professionals, and journalists are now grappling with global religious dynamics and influences.

The launch of the book will feature the volume's editors as well as three of its contributors: Michael Barnett of George Washington University and Thomas Farr and Katherine Marshall, both of the Berkley Center. The panel will ask: How much real progress has been made in "rethinking religion and world affairs" in the worlds of scholarship and policy making? And what further progress is needed, particularly in terms of new concepts, methods, and research agendas?
RSVP for the event here.