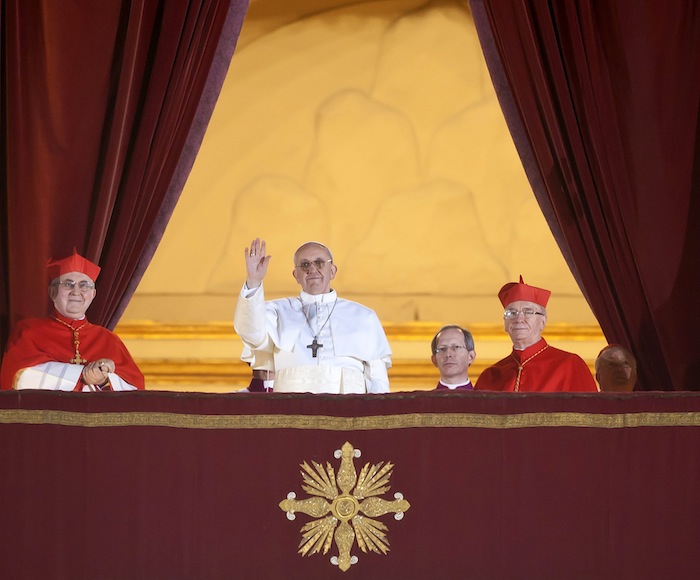 On March 13, 2013, after five rounds of voting, Cardinal Jorge Bergoglio of Argentina was selected as pope, making him the 266th pope of the Roman Catholic Church, the first non-European pope in modern times, and the first from the Jesuit order. In this post, we round up a range of reactions to the selection of the new pope—both within the English-language press and across Latin America.
Cardinal Bergoglio is the first pope to have chosen the name of Francis. Many assume that this choice is in reference to St. Francis of Assisi, founder of the Franciscan order. At CNN, Holly Yan points out that "St. Francis of Assisi was born the son of a rich cloth merchant. But he lived in rags among beggars at St. Peter's Basilica in Rome." An article at La Vanguardia quotes Europa Press, stating that while it is possible Bergoglio meant to recall St. Francis of Assisi, it is also possible that he was choosing to remember St. Francis Xavier, co-founder of the Society of Jesus. Should this be the case, it would give a different connotation to his papacy, one of evangelization, rather than piety.
In particular, Pope Francis has been lauded for his humble behavior as a cardinal. At the Global Post's Belief blog, Emily Judem writes that the new pope is an extremely humble man, eschewing showy garments, and taking public transportation to work. She quotes Charles Sennott, Global Post founder, as saying, "The thing to know about Cardinal Bergoglio is that he has often been regarded as the conscience of the church in terms of the costs of globalization on the world's poor." An article in the Economist claims that "this was a good moment for a rupture with the past, and in some respects the cardinals' choice does represent a clean break.… Pope Francis is different enough, in style and origin, to be credible as a 'new broom' sweeping the Vatican stables clean." However, Francis still supports the church's very conservative views on gay marriage and abortion. La Nacion writes that Pope Francis is an avid opponent of both matrimonio igualitario—egalitarian (gay) marriage—and abortion. He has been quoted as saying, "No seamos ingenuos: no se trata de una simple lucha política; es la pretensión destructiva al plan de Dios" (Let's not be naïve; it is not just a political struggle, but a claim to destroy God's Plan).
There has also been controversy surrounding the new pope's relationship with the military dictatorship that ruled Argentina between 1976 and 1983. An article written by Horacio Verbitsky, author of El Silencio (The Silence), in which Bergoglio is implicated with the junta, provides five testimonials, which, according to Verbitsky, confirm Bergoglio's role. Defenders of Francis have included Nobel Peace Prize winner Perez Esquivel, who has vouched for Francis's actions during the dictatorship, stating that while some members of the church were active with the junta, Francis was not one of them. An article for the Guardian takes a more neutral stance, calling the evidence "sketchy" and "contested," while also referencing an apology that the church made in 2000, regarding its failure to take a stand against the military regime.
For the first time in history, the Vatican did not only signal the election of a new pope via white smoke but also, simultaneously, tweeted "habemus papam." Presidents across Latin America welcomed the first South American pope as their own. A compilation by Infobae includes the various tweets, as well as comments from regional leaders, including president of Venezuela Nicolas Maduro, who said that Hugo Chávez must have influenced the decision from Heaven.
At 75, Francis is the nintholdest pope ever elected, according to Nate Silver. Silver notes that while the cardinals may not have been thinking directly about the length of Pope Francis' term, "if Francis serves for 5 to 10 years, a considerable number of the cardinals will have another opportunity to steer the course of the church by voting again on a pope, something that would have been much less likely had they selected a candidate in his 50s or 60s."
For a larger discussion on the issues that Pope Francis faces in his new role, see this New York Times article by Rachel Donadio.