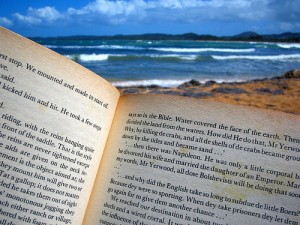 As the start of the fall semester inches closer, we've invited a handful of our contributors to reflect on what they've read over the summer.  We asked: What are the best books and essays on religion, secularism, and public life that you've come across this summer? What are you most looking forward to reading in the near future?
This page was updated to include a contribution from Pamela Klassen—ed.
Below are their responses.
Richard Amesbury, Associate Professor of Ethics, Claremont School of Theology; Associate Professor of Religion, Claremont Graduate University

Courtney Bender, Associate Professor of Religion, Columbia University

Jason Bivins, Associate Professor of Religion, Associate Head of the Department of Philosophy and Religion, North Carolina State University

Tracy Fessenden, Associate Professor of Religious Studies, Arizona State University

David Kyuman Kim, Associate Professor of Religious Studies, Connecticut College; SSRC Senior Advisor and Editor-at-Large for The Immanent Frame

Pamela Klassen, Associate Professor of Religion, University of Toronto

Patrick Lee Miller, Assistant Professor of Philosophy, Duquesne University

John Schmalzbauer, Associate Professor of Religious Studies and Blanche Gorman Strong Chair in Protestant Studies, Missouri State University

James K.A. Smith, Professor of Philosophy, Fellow of the Center for Social Research, Calvin College

Winnifred Fallers Sullivan, Associate Professor of Law, Director of the Law and Religion Program, SUNY-Buffalo

John Torpey, Professor of Sociology, Graduate Center, City University of New York
______
Richard Amesbury, Associate Professor of Ethics, Claremont School of Theology; Associate Professor of Religion, Claremont Graduate University
A new semester gets underway this coming week, but at the moment I'm at the European Society for Philosophy of Religion's conference in Oxford on "Religion in the Public Sphere," savoring the last few days of a year's sabbatical. My reading this past summer has included two excellent studies of nationalism—Anthony W. Marx's Faith in Nation: Exclusionary Origins of Nationalism (Oxford, 2005) and Craig Calhoun's Nations Matter: Culture, History and the Cosmopolitan Dream (Routledge, 2007). Though Marx's book focuses on France, England, and Spain in the early modern period, it is hard not to think of contemporary America when he speaks of "the glue of religious exclusion as a basis for domestic national unity." But if national identities are characteristically conceived too narrowly, Calhoun's book argues that cosmopolitanism, liberalism's proposed universalistic alternative, "does not provide the proximate solidarities on the basis of which better institutions and greater democracy can be built." While the practical necessity of nations in the modern world is "not something in itself to be celebrated," Calhoun points out that national identity is susceptible to contestation and reconfiguration. On his account, the ever present dangers of nationalism are better addressed by transforming, rather than by eliminating, the nation.
The book I've been reading on the plane is V.S. Naipaul's The Mimic Men (Vintage, 1967). By coincidence, it is the third work of fiction I've read this summer featuring a protagonist, and by an author, in exile—the others being J.M. Coetzee's Youth (Penguin, 2002) and Peter Carey's His Illegal Self (Vintage, 2008). Though I did not select these novels with the theme of national identity in mind, they seem, on reflection, to have something important to say about it. As Homi Bhabha has remarked, "wandering peoples [. . .] are themselves the marks of a shifting boundary that alienates the frontiers of the modern nation."
______
Courtney Bender, Associate Professor of Religion, Columbia University
I've read mostly fiction this summer—guided by friends' recommendations and by a hope that whatever good writing I read will rattle me out of the ruts of my thinking about scholarly matters. David Mitchell's Cloud Atlas (Random House, 2004), Chang-rae Lee's Native Speaker (Riverhead Books, 1996), Sam Lipsyte's The Ask (Farrar, Straus and Giroux, 2010), and Colm Toibin's Brooklyn (Scribner, 2009) all provoked and rattled, and I can see ways that most could even be incorporated into courses. But all of those seemed a prelude to my finally starting Herman Melville's The Confidence-Man (1857) last week. Over the last two years, I've noted The Confidence-Man in numerous footnotes of recent books I've read on secularism. His/its presence in social scientific literature itself has prompted me to ponder the role of literature in social science more broadly. So it is only fair that I've finally picked up The Confidence-Man (which I am greatly enjoying!). I'm happy I have this complex and challenging novel to carry me into the fall.
In a different vein, the relentless discussion over the Ground Zero "mosque" compelled me to pick up and reread one of my very favorite books of all time, Rem Koolhaas' 1978 polemic Delirious New York (Monacelli Press). One of the things that has interested me about the media circus is the relentless invocation of Ground Zero's "sacredness" and what can only be understood as the quite different, competing views of sacred space pronounced by various sides. New Yorkers (myself included) have often found others' views of lower Manhattan to be quite misguided, in part because (I think) New Yorkers live in a different kind of place. Koolhaas, a Dutch architect, helps me see how this difference works, and where it emerges, via architectural excavation and gorgeous writing. He says of Manhattan:
Not only are large parts of its surface occupied by architectural mutations (Central Park, the Skyscraper), utopian fragments (Rockefeller Center, the UN Building), and irrational phenomena (Radio City Music Hall), but in addition each block is covered with several layers of phantom architecture in the form of past occupancies, aborted projects and popular fantasies that provide alternative images to the New York that exists.
Koolhaas explains how congestion and complexity and chance intersect with commerce and utopian visions. The result is a city of monuments without a fully formed monumental mentality. Urban secularism and urban sacrality thrive in congested, irrational, utopian, mutated, and phantom "places." In other words, he is invoking a similar story of complexities and complications in architecture and city planning that Melville demands that we engage in reading subjects' interiors and surfaces. The possibilities and questions about living secularity that are unfurled in Delirious New York are truly fantastic and fantastical. It's a great, great book.
______
Jason Bivins, Associate Professor of Religion, Associate Head of the Department of Philosophy and Religion, North Carolina State University
When I wasn't busy rubbernecking at the flaming wreck of summer politics or enjoying the close proximity between the sound of vuvuzelas and Giacinto Scelsi (if you don't believe me, listen to "Quattro Pezzi per Orchestra"), I tried to make time to read. But as I have sought refuge from the wreck in my research into jazz and American religions, and in those abidingly marvelous sounds, I found that two books on music enriched my thinking about religion and public life in surprising ways. Josh Kun's Audiotopia (University of California, 2005) is a vibrant meditation on the utopic possibilities of musical performance and "almost-places of cultural encounter." His attention to modes of sonic othering, however, pushed me to think more imaginatively about how American religious difference and identity, too, are sonic constructions where—in Kun's formulation—the "heard" of difference flows beyond the interior to become amplified in public religious cultures.
Alex Ross' magnificent The Rest Is Noise (Farrar, Straus and Giroux, 2008) is not only a celebration of twentieth century "classical" music but a study in boundary-blurring. When listening carefully to poaching between genres—where composers from Ives to Stravinsky to Reich appropriate jazz, gamelan, and rebetiko, and where the Beatles cribbed from Stockhausen, Pink Floyd from AMM, Radiohead from Pärt—one realizes that genre boundaries were only ever there to be crossed with such frequency that, like those pluralist cultures so beloved in the academic imagination, origins and essences seem more fictive than real. What a fascinating comparison this makes for our shifting considerations of the category "religion," whose distinction from not only the "secular" but from eros, economy, and so forth continues to preoccupy us. I love the idea that through sound we may escape from and return to these disciplinary rituals of questioning, and that the familiar could resound to us as a newly strange medley.
______
Tracy Fessenden, Associate Professor of Religious Studies, Arizona State University
I would love to tell you that my reading this summer has been wide and deep and scholarly, but the truth is that where my family and I retreat to in France the local wine is more reliable than the wireless, and the bookstore is a train ride away. I did manage to download all but the season finale of Treme before leaving home, and to find suitcase space between my kids' picture books and preteen sagas for Mary Karr's Lit (Harper Collins, 2009), Colm Tóibín's Mothers and Sons (Scribner, 2007), Paul Harding's Tinkers (Bellevue Literary Press, 2009), and Irène Némirovsky's Suite Française (Knopf, 2006), all of which stood up to hard use. Back at the office, I've had the immense pleasure of reading John Lardas Modern's Secularism in Antebellum America and Elizabeth Fenton's Religious Liberties in manuscript: both are dazzling, and both are sure to shake up discussion about religion, secularism, and the public sphere when they appear in the coming year. I also had occasion to return to Courtney Bender and Pamela Klassen's visionary After Pluralism: Reimagining Religious Engagement (Columbia), due in October, and to Joseph Kip Kosek's Acts of Conscience: Christian Nonviolence and Modern American Democracy (Columbia, 2009), which has justly been awarded this year's AAR prize for the Best First Book in the History of Religions. Finally, I've started reading the essays now coming in for a volume Linell Cady and I are doing on religion, secularism, and gender in international contexts, including wonderfully rich contributions from Joan Wallach Scott and Elizabeth Shakman Hurd. I'm often hard-pressed to find reasons to be hopeful about the direction of the academy, or about its contribution to a viable public discourse of religion. But there, that's six.         
______
David Kyuman Kim, Associate Professor of Religious Studies, Connecticut College; SSRC Senior Advisor and Editor-at-Large for The Immanent Frame
As I write this entry, the fifth anniversary of the cataclysm known as Hurricane Katrina is passing. In anticipation of this remembrance, I began the summer by reading Dave Eggers's Zeitoun (McSweeney's, 2009)—without a doubt the most powerful and affecting book of the season. To my mind, Eggers has become one of America's most important writers, and in Zeitoun he provides an absorbing account of the dream and perverse nightmare of living and being a Muslim immigrant in the post-9/11 Bush-era. Another book that came to me through the catastrophic—this time the earthquake in Haiti—is Tracy Kidder's biography Mountains Beyond Mountains: The Quest of Dr. Paul Farmer, a Man Who Would Cure the World (Random House, 2004). Both Zeitoun and Mountains Beyond Mountains tell inspiring stories of folks who act on the aspiration to do good in the world despite overwhelming conditions that indicate that doing otherwise is what makes sense.
Since embarking on the dialogue series Rites and Responsibilities, interviews and the like have increasingly drawn my attention. In this vein, I thoroughly enjoyed Terry Eagleton's The Task of the Critic: Terry Eagleton in Dialogue (Verso, 2009). Eagleton is not only a great cultural critic, he is also an engaging interlocutor in the debates around secularism.
There is always more, for sure. Shortly I will be turning to Chalmers Johnson's Dismantling the Empire: America's Last Best Hope (Metropolitan Books, 2010) and Noam Chomsky's Hopes and Prospects (Haymarket Books, 2010). I am very much looking forward to re-reading my dear friend Cornel West's riveting memoir of a life well lived and well told Brother West: Living and Loving Out Loud (SmileyBooks, 2009), which will be coming out in paperback this fall. For me, among the most highly anticipated books of the coming season is Stanley Cavell's autobiography Little Did I Know: Excerpts from Memory (Stanford, forthcoming). Cavell has long been an intellectual hero of mine—that rare philosophical alchemist who is able to conjure a consistent brew of art, wisdom, and insight.
______
Pamela Klassen, Associate Professor of Religion, University of Toronto
A good deal of my spring/summer academic reading was determined by my reading list as a juror for two book prizes.  I was especially taken with two books that I read for the American Academy of Religion's Best First Book in the History of Religion Prize: the winner, Joseph Kip Kosek's Acts of Conscience: Christian Nonviolence and Modern American Democracy (Columbia University Press, 2009) and one of the honorable mentions, Tisa Wenger's We Have a Religion: The 1920s Pueblo Indian Dance Controversy and American Religious Freedom (UNC, 2009).   Both books demonstrate how historical attention to specific communities of debate can complicate scholarly and popular assumptions about the lines between politics and religion—or even what counts as politics or religion to start with.
Kosek's book tells the story of a "radical religious vanguard" of liberal Protestant pacifists in the United States between the two world wars.  A mix of theologians, clergy, and lay activists, the Fellowship of Reconciliation forwarded a sophisticated political and religious critique of state violence that was informed as much by their interpretation of Jesus as by Gandhian satyagraha.  Kosek's attention to the uses of ritual in the movement, and the Fellowship's influence on later versions of civil disobedience offers an important corrective to overly intellectualized portrayals of Protestant political dissent.
Tisa Wenger's book also reveals the profound significance of ritual politics in the U.S., as she shows how various participants used, and even created, the category of "religious freedom" in the 1920s debate over Pueblo dances in New Mexico.   Especially fascinating is her account of how two alliances emerged, both invoking religious freedom: New York artists and anthropologists supported the Pueblo dancers as practitioners of an "authentic" religion under threat, while state education officials, many missionaries, and some Christian Pueblos themselves opposed the dances as "imposed" rituals that took children away from state-sanctioned schooling.
Both books are beautifully written and surprising interventions into the politics of religion, or the religion of politics, in American culture.
______
Patrick Lee Miller, Assistant Professor of Philosophy, Duquesne University
The only religion in my reading this summer was baseball:
Cardboard Gods: An All-American Tale Told Through Baseball Cards, Josh Wilker (Seven Footer Press, 2010).
Proust had his madeleine; Wilker, his baseball cards. Meditating on one after the other, he summons, first his childhood in the 1970s, and then his adolescence in the 1980s. Whether it is the confusion of his hippie home in Vermont, the cruelty of the older brother who is also his idol, or his failure in school, work, and love—no matter how painful the memory, there's a baseball card to make it vivid and comprehensible. Wilker is just as insightful when it comes to the history of the game that has become his therapy. Anyone who has ever collected baseball cards will marvel at the signs he reads in their awkward photos and peculiar statistics. In cards, as in therapy, as in life: there is infinity in a grain of sand.
Clemente: The Passion and Grace of Baseball's Last Hero, David Maraniss (Simon & Schuster, 2007).
Maraniss recounts the well-known facts of Roberto Clemente: his prodigious talent, his passionate and consistent play, the humanitarian effort that ended in his watery death. By setting them against the background of his Puerto Rican origins, though, Maraniss oscillates with Clemente each season between the adulation he experienced at home and the indignities he suffered on the mainland. Never so stoic as Jackie Robinson, Clemente burned for recognition. Loving the Pittsburgh fans who gave it to him, while hating the sportswriters who would not, he was proud to a fault. This pride pushed him to excel, in baseball and in life; to fight, in the batter's box and in a crowd; to save, both earthquake victims and the '71 Pirates. The Clemente of Maraniss shows that our virtues must also be our vices.
______
John Schmalzbauer, Associate Professor of Religious Studies and Blanche Gorman Strong Chair in Protestant Studies, Missouri State University
This summer I explored conservative Protestantism's wrenching post-war transition from separatist fundamentalism to the "new evangelicalism." Published in 1987, Rudolph Nelson's The Making and Unmaking of an Evangelical Mind: The Case of Edward Carnell (Cambridge, 2002) recounts the painful effort of its subject to articulate a "post-fundamentalist" identity in the face of conservative attacks and liberal indifference. It begins with a discussion of Carnell's death from an overdose of sleeping pills, including the details of the Alameda County coroner's report. Just as heartbreaking is John D'Elia's A Place at the Table: George Eldon Ladd and the Rehabilitation of Evangelical Scholarship in America (Oxford, 2008). Ladd was a key figure in moving evangelical theology away from the framework of dispensational pre-millennialism. Voted the most influential American biblical scholar by his fellow evangelicals, Ladd struggled to gain acceptance in the larger guild. Devastated by a negative review, he descended into alcoholism and depression. Read alongside each other, these parallel lives provide support for sociologist James Hunter's observation that evangelicals have experienced a "double marginality" in the academy.
To see what they were up against, one only has to pick up William Vance Trollinger's God's Empire: William Bell Riley and Midwestern Fundamentalism (Wisconsin, 1991). Founder of the World's Christian Fundamentals Association in 1919, Riley later promoted The Protocols of the Elders of Zion. Along the same lines, Riley's ally Gerald Winrod argued that President Roosevelt was a Jew, spinning a conspiracy theory about the New Deal. Though most fundamentalist leaders eventually repudiated Riley and Winrod, it is chilling to read their sermons.
Lest these works tempt one to embrace a Whig interpretation of history, historian Paul Harvey notes that American society has a long way to go in the tolerance department. Currently, 18 percent of Americans (and 29 percent of white evangelicals) believe that Barack Obama is a Muslim.
______
James K.A. Smith, Professor of Philosophy, Fellow of the Center for Social Research, Calvin College
On the non-fiction front, I worked through a couple of books directly relevant to religion, secularism, and public life. I was finally able to read James Davison Hunter's important new book, To Change the World: The Irony, Tragedy, and Possibility of Christianity in the Late Modern World (Oxford, 2010). This book is a game-changer, hopefully displacing the rather tired taxonomy of Niebuhr's Christ and Culture (Harper & Row, 1956).
I was also able to read advanced proofs of Christian Smith's new book, What Is a Person? Rethinking Humanity, Social Life, and the Moral Good from the Person Up (Chicago, 2010). This is something of a sequel and expansion of his methodological manifesto from a few years ago, Moral, Believing Animals (Oxford, 2003). Smith continues to contest reductionism of every stripe, and always has an eye on whether and how the social sciences can do justice to religious phenomena.
But summers are the time for me to indulge my taste for literature—though I probably never quite leave behind my interests in religion, secularity, and public life. Part of that includes my fascination with nineteenth-century "decadence" authors such as Joris-Karl Huysmans and Oscar Wilde, whose devotion to aestheticism looks remarkably religious, even monastic, at times. So I enjoyed re-reading Huysmans' Against Nature (1884) and Wilde's Picture of Dorian Gray (1890) with those interests in mind.
I also finally read Jonathan Franzen's "great American novel," The Corrections (Picador, 2002), which, among many other dynamics, explores the tensions between a still religious Midwest and the secularized environs of the East coast. (This has put Franzen's new novel, Freedom, at the top of my to-read list.)
If Franzen explores these tensions generationally—the elderly Midwest parents and the Eastern, secularized children—Martin Amis' new novel, The Pregnant Widow (Knopf, 2010), explores this tension within a generation. Set in a bourgeois bohemian Italian castle in the summer of 1970, Amis considers the unique tensions of this postwar generation, conceived in one moral universe but birthed in one very different. The secularization of Europe is in the background throughout, though Amis's Hitchens-like shots at religion are a bit sophomoric and tiring. His cynical wit makes up for it.
______
Winnifred Fallers Sullivan, Associate Professor of Law, Director of the Law and Religion Program, SUNY-Buffalo
Two books which have significantly affected my thinking this summer are the recently published and much anticipated English translation of Bruno Latour's La fabrique du droit (Paris, 2002) as The Making of Law: An Ethnography of the Conseil d'État (Polity, 2010) and Fred M. Donner, Muhammad and the Believers: At the Origins of Islam (Harvard, 2010).
Latour's "fly-on-the-wall" account of what lawyers do, based on extensive fieldwork at one of France's three supreme courts, is remarkably successful at specifying exactly what it is to think like a lawyer. It is also often hilarious. Well, it's hilarious if you are a lawyer. The Conseil d'État hears all final administrative appeals. It is made up of both civil servants and private individuals who cycle on and off the court. Latour shows in painstaking detail how the court, in cases reviewing the most mundane local decisions as well as those that threaten a constitutional crisis, shapes the facts on the ground into a legal question, one that is always strangely disassociated from the original facts. His is a powerful account of the ways in which "law" establishes itself; but also about the ways in which law is out of touch. Commenting on what you would know if you read the entire Lebon (the records of the court), Latour says:
You will have learned only law, occasionally punctuated by the more or less moving complaint of a few actors with colourful names. Wanting to transport knowledge via the routes of law would be like trying to fax a pizza. . . .
Donner's reading of the earliest historical record of the people, ideas, and events, which later generations would shape into the beginnings of an Islam that would come to understand itself and be understood by others to be a bounded religious community, is a moving and lucid re-setting of the conversation. Donner's scrupulous and respectful honesty about what is known about these events and his insistence that a premature reading back of later re-imaginings of those events by Muslims and others, has obscured them in significant ways, is breathtakingly refreshing.
______
John Torpey, Professor of Sociology, the Graduate Center, City University of New York
I recently had the good fortune to spend four months in Austria as a Fulbright Professor at the University of Graz, where my teaching responsibilities ran well into what we would normally regard as "the summer."   Nonetheless, proximity to some of the major sites in the history of European Christianity, and distance from certain administrative obligations, afforded welcome opportunities to read around in areas relevant to The Immanent Frame.
I finally got a chance to read Peter Brown's essential Rise of Western Christendom (Wiley-Blackwell, 2002), and to be reminded that the center of gravity of Christianity was for a long time far in the east before it landed in Rome. Partially as a result of reading Brown, I traveled to Ravenna to visit some of the churches and mosaics dating from a period when that city was the western outpost of a newly Christianized Constantinople. Brown reminds us that for a long time, those in Constantine's city thought of themselves as "Romans," a fact reflected in the Turkish name for the "European" side of Istanbul (Rum).
I also took the occasion of my stay in Austria to read Diarmaid MacCulloch's magisterial history of The Reformation (Viking, 2004). The book is extraordinary in both its sweep and its command of detail. I gained a new appreciation for the importance of Protestantism in its early years not just in the places where it ultimately triumphed and persisted, but in France (the Huguenots), Austria, and Poland (of all places!). We may think of these countries as more or less uniformly Catholic today, but they had serious episodes and bastions of Protestants in the years preceding the Counter-Reformation; these frequently involved efforts by territorial princes to stick a thumb in the eye of the Habsburgs. MacCulloch has now produced yet another doorstop, Christianity: The First Three Thousand Years (Viking, 2010). I may have to apply for another Fulbright to get through that one.
Finally, largely as a result of some wonderful and eye-opening travel in Spain, I sought to fill one of the persistent lacunae in my education by reading Don Quixote (1605, 1615). I now have a much better appreciation of what people mean when they describe someone's endeavors as "quixotic."