The Metropolitan Museum of Art's Heavenly Bodies features stunning haute couture and trendy prêt-à-porter garments staged with objects from medieval Catholic life and devotion, such as tapestries, reliquaries, stained glass, and paintings. It is not simply the juxtaposition of objects that heightens the connections between Catholic pageantry and high design; it is also the careful orchestration of this fashion showcase. Visitors to the exhibit must go on a pilgrimage to view its entirety, which spans three galleries of the Met Fifth Avenue and is dispersed through sites at the Met Cloisters. The Anna Wintour gallery also hosts some forty eighteenth to early twentieth-century ecclesiastical vestments and liturgical objects on loan from the Vatican.
Visitors encounter a medieval scene, a religious procession, a monastic cloister, a mass, or references to Catholic devotional life, the cult of the saints, the sacraments, angelic figures, the veneration of the Virgin. High fashion is submerged in the medieval Catholic imagery that surrounds it. The exhibit's juxtaposition of the "Catholic imagination" and the "medieval" calls up a familiar association of the Church and the pre-modern past. The nineteenth-century Church promoted this link to represent itself as a bulwark against the individualism and capitalism of modernity. (In this regard, it is notable that items on loan from the Vatican sacristy are largely remnants of the pre-Vatican II era.) The cumulative aesthetics of the show create a sense of stepping into a charmed past.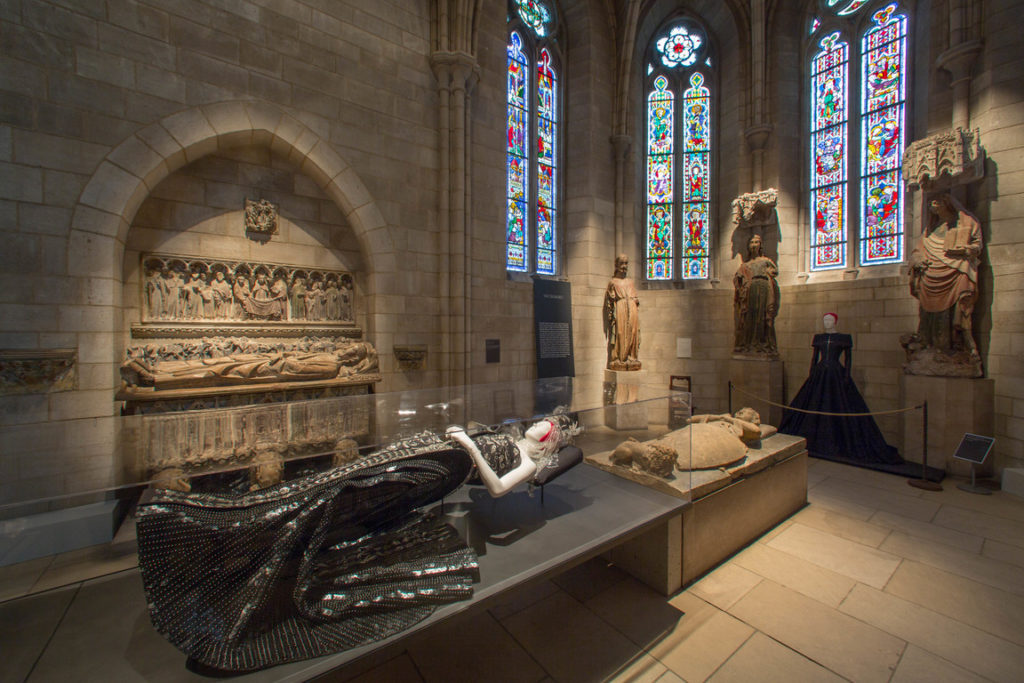 Heavenly Bodies does not only offer serious-minded evocations of earlier Catholic eras. This is particularly true when the show plays up prurient fascination with the sexuality of nuns, priests, and monks. Take, for instance, a series of dresses and headpieces that pay homage to the nun's habit. These items cast the nun as an icon of feminine beauty, though sometimes comically. Rick Owens's black pantsuit seems to be a modest garment, but in fact, this tulle and leather outfit contains cut-out panels that leave skin exposed. Riccardo Tisci takes this line even farther with a voluminous black shirt that also covers the head, yet as the exhibit catalogue states: "with the flip of the wrist . . . tumbles down in a gesture suggestive of a striptease." The juxtaposition of modesty and lasciviousness—the idea that the former might easily give way to the latter—has long animated representations of consecrated women and their male counterparts.
From the sixteenth century into the early modern period (women religious largely abandoned it after 1960), the nun's habit became a synecdoche for the nun herself—to speak of it was to cite the desires and anxieties a celibate woman could engender. Fascination with and trepidation about the sexuality, and clothing, of women religious can be traced to the earliest centuries of Christianity. At that time, some elite girls drawn to sexual asceticism shrugged off markers of feminine attire, lopped off their tresses, and adopted the gender-non-descript clothing of the male monastic.
Saints' lives from these centuries additionally suggested that the corporeal disciplines of celibacy, fasting, and poverty could eliminate the signs of feminine gender. Tales of cross-dressing saints, such as the fourth or fifth century Pelagia of Antioch, present female ascetics who donned the garb and even the identity of men. Into the medieval period, we find stories of Joan of Arc, a young French girl dressed and disguised as a male knight. (She, too, inspires a number of items in the show.)
In Roman antiquity, Christian leaders, like Tertullian, Jerome, or Augustine, were keen to manage the potentially unsettling social effects of sexual asceticism. They articulated a rhetorically useful, if paradoxical, assertion: a virgin should be identifiably feminine and beautiful, thus desirable, but also, sexually chaste, thus unavailable. Medieval representations of the Virgin Mary wonderfully capture this tension between beauty and sexual innocence. (It is perhaps unsurprising that Mary is among the most popular muses for fashion in Heavenly Bodies.) For their part, early Christian writers called on the veil to signify this dual assertion of femininity and asexuality. Once the garb of married women, the veil defined virgins not as beyond or without gender, but rather as brides wedded to a celestial bridegroom: Christ.
Yet fears always remained that modest clothing could deceive. Tisci's play on the veil as an erotic garment, inviting speculation about what it might conceal, echoes the ways in which modesty could be eroticized. Early Christian writings, for instance, are replete with warnings about so-called pseudo-virgins who happily hide pregnancies under voluminous gowns. In the medieval period, legends emerged of a duplicitous female pope named Joan who was revealed to be a woman when she gave birth during a papal procession. Protestants in the new world promulgated scandalous accounts of Catholic nuns' unbridled sexuality as part of their anti-Catholic rhetoric. As Marjorie Garber shows in "Religious Habits," an especially rich chapter in her path-breaking Vested Interests, the nun's asexuality made her a figure of suspicion in the nineteenth and twentieth centuries, as well. Sigmund Freud treated her as the image of repression and its resulting hysteria. Celibate men were not free from such anxieties and speculations either, argues Garber. A regular figure of medieval popular entertainment, and later Protestant polemic, was the bawdy monk, a construction based on the notion that celibacy was pretext for salaciousness. In Heavenly Bodies, the rapacious monk inspires another garment from Rick Owens: a brown, wool "habit" that features a "pee(p) hole at the crotch."
In the medieval period, abstention from sexual intercourse and military service could make celibate men's gender suspect, as well. Priests and monks in late antiquity and the Middle Ages were deemed feminine as a result of their social position, which mapped unevenly onto dominant economies of sex and gender of the time. Into the nineteenth century, the feminizing of male clerics could be amplified, often by Protestant detractors, because clerical dress is by nature antiquarian and ornamental. Clerical clothing, especially that of priests, played a critical role in devotional life in this period; it was used to cement the Church's role as a celestial power (if no longer a temporal one). The sartorial regime of Catholic vestments developed over centuries was codified in the Middle Ages, and embellished in the modern period to draw attention to the priest's role in overseeing its central sacrament: the Eucharist. Thus, Catholic vestments were successful in terms of their ceremonial power, but increasingly out of sync with modern gender codes.
This discordance is on display in Heavenly Bodies. Visitors will surely note that clerical clothing provides fashion houses inspiration for elaborate women's haute couture. Catholic liturgical clothing provides a choreography of colors, differentiated styles, and exquisite fabrics, comprised of "gowns" and "skirts," not pants; it is worn as part of a theological pageant. Catholic processions and ceremonies, suggests Heavenly Bodies, are not unlike a modern, women's fashion show. Italian director Federico Fellini's satirical "ecclesiastical fashion show" makes this link explicit, and the scene inspires items from Dior and Dolce and Gabbana on display: two richly ornamented gold and white ensembles complete with bishop's miters.
Is it surprising to find satire, which points to on-going tensions around sexuality inside the Church, in a show with which the Vatican has collaborated? This institution has continued, though perhaps less ardently under Pope Francis, with prohibitions against homosexuality. All the while the Vatican has enabled, even supported, non-normative expressions of gender and sexuality, as I have been demonstrating. Continued revelations about sexual abuse, and the Church's role in covering these up, have shaken its faithful. The intractable, and deeply erroneous, link between homosexuality and pedophilia has only perpetuated the Church's silence about those abuses, and with it, what has felt to many Catholics as incoherent or untenable positions on sexuality.
Yet we might remember that parody and satire are not alien to the Catholic tradition either. Medieval carnivals, festivities that came before the austere season of Lent, featured satirical impersonations (often entailing cross-dressing) of powerful figures, such as kings and bishops. Russian literary theorist Mikhail Bakhtin argued that satire can harbor rebellion; it is an alternative vision of reality soliciting radical social change. Conversely, other accounts see satire as less unsettling, something of a temporary release of tension, and one that ultimately cannot shake up social hierarchies. Inside of a broadly celebratory treatment of Catholic devotional life, designs in Heavenly Bodies offer the tamer variety of carnival. Nonetheless, if we look closely, they indicate the complexity of how gender and sexuality have figured in the Catholic imagination.