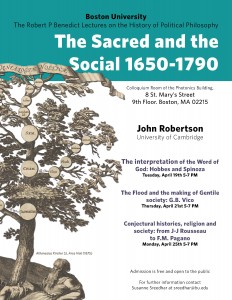 University of Cambridge historian John Robertson will be delivering this year's Robert P. Benedict Lectures on the History of Political Philosophy at Boston University entitled, The Sacred and the Social: 1650-1790. Professor Robertson will offer three lectures entitled:
The interpretation of the Word of God: Hobbes and Spinoza: Tuesday, April 19th 5-7 PM

The Flood and the making of Gentile society: G.B. Vico: Thursday, April 21st 5-7 PM

Conjectural histories, religion and society: from J-J Rousseau to F.M. Pagano: Monday, April 25th 5-7 PM
The event is free an open to the public. More information can be found here.