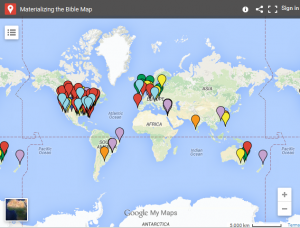 The Immanent Frame contributor James S. Bielo and co-curator Amanda White have recently launched a new website called Materializing the Bible. The site, a "curated, online catalogue of Bible-based attractions around the world," the site is designed to aid visitors in exploring and understanding these places, and to serve as a research and curriculum resource for students and educators.
Materializing the Bible is intended for multiple audiences. First and foremost, we hope educators and students at various levels will find the site productive and provocative. We also hope the site will be fruitful for public audiences, in particular to advance comparative, ethnographic ways of understanding Bible-based attractions. And, of course, for travelers of all kinds: use this site to locate an attraction near you or your next destination. While the websites are fascinating, sometimes you have to… go.
Bielo has written previously at The Immanent Frame on one such attraction: Ark Encounter, a biblical theme park currently under construction in Williamstown, Kentucky.
Read more about Bielo and White's digital project here.