Mark Fathi Massoud, Assistant Professor of Politics and Legal Studies at the University of California, Santa Cruz, examines the trials and tribulations of law in Sudan in his new book, Law's Fragile State: Colonial, Authoritarian, and Humanitarian Legacies in Sudan. In an interview with Jadaliyya, Massoud speaks about his motivation to uncover the essence of how law—and lawlessness—operate in the context of fragile states. From the publisher: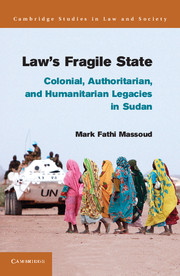 How do a legal order and the rule of law develop in a war-torn state? Using his field research in Sudan, Massoud uncovers how colonial administrators, postcolonial governments, and international aid agencies have used legal tools and practices to promote stability and their own visions of the rule of law amid political violence and war in Sudan. Refuting the conventional wisdom of a legal vacuum in failed states, this book offers a thoughtful and readable account of the important ways that law matters in even the most extreme cases of states still fighting for political stability. Law's Fragile State helps scholars, students, policymakers, and the interested public to make sense of Sudan and what law does, and what it fails to do, in the world's most desperate environments.
Read more about the book here and see his entire interview with Jadaliyya here. Massoud also elaborates on his topic in a blog post at the Critical Investigations into Humanitarianism in Africa Blog.