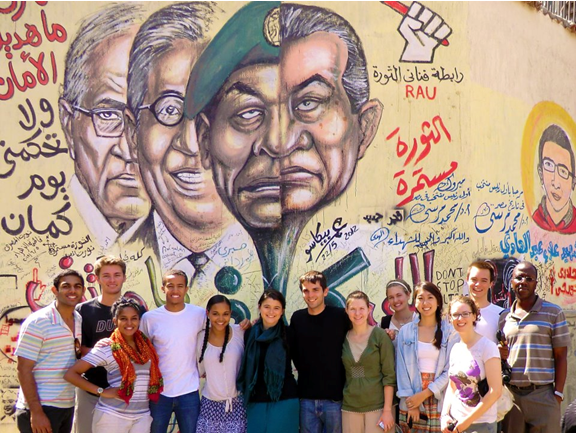 Mohamed Morsi was declared President of Egypt little more than two weeks ago. Challenger and former President Hosni Mubarak's last prime minister, Ahmed Shafik, sent President Morsi a telegram congratulating him on his victory: "I am pleased to present to you my sincere congratulations for your victory in the presidential election, wishing you success in the difficult task that has been trusted to you by the great people of Egypt."
As thousands celebrated the victory of the Freedom and Justice Party—part of the 84-year-old Muslim Brotherhood organization—in Tahrir Square, just a few blocks away a much more somber mood prevailed.
"Let me enjoy another bottle of beer," said an old man as he plunked some coins on the counter at a local grocery store. "Soon the Jama'a (Muslim Brotherhood) will ban it." The store owner, Mr. Ahmad, nodded. "Allah yastur al balad, [May god protect the country]—it will be like Sudan or Pakistan." Clearly, anxiety and divisions still persist in Egypt. The pharmacists at the nearby El-Ezaby Pharmacy also looked disillusioned. This profession in Egypt is overwhelmingly dominated by the Coptic Christian community, who represent about 10 percent of Egypt's 85 million people, but 90 percent of whom voted for Shafik according to exit polls.
Early in June my colleague Bruce Lawrence and I took some of our students to the African And Arab Research Center of Cairo, where a group of Cairo University professors welcomed us to a round-table discussion on the Egyptian elections. A colleague from Cairo University asked the group to help him decide who to vote for. He said he found it difficult to choose between the Muslim Brotherhood, who he said would "cloak the democratic process," and Shafik, whose victory "would enable a second and more decisive round of the revolution because of his connections to the unpopular ruling military junta, known as the Supreme Council for Army Forces (SCAF)."
Ironically, only Professor Lawrence and I argued for Morsi while the rest, including the visiting students and the left-leaning Cairene professors opted for Shafik. Professor Lawrence cited eloquently the historical significance and momentous need for change in Egypt, and said Egyptians would never know the real Muslim Brotherhood unless they elected him. My hypothetical vote for Morsi was grounded in my overall philosophical belief in risk-taking as the most genuine path to human progress. It was and is still my belief that the economic ills of Egypt warranted assuming that risk. But many people's justification for voting for Shafik reflected fear of the unknown. Reverting to a pre-revolutionary Egypt seemed to them a safe bet.
There has been wide speculation on the root causes of Shafik's popularity; namely, how he carried the governorate of Cairo during the election or manage to get 48.3 percent of the vote despite his leadership status during the Mubarak years. This is not a new phenomenon for societies that have experienced radical transformations. Dispatching a message of 'fear' in an atmosphere of uncertainty always pays off in attracting politically-excluded minorities and business elites, as well as a large segment of the middle class. Just look at the results of South Africa's presidential election of 1994, the US presidential elections in 2004, and Russia's 2012 presidential election.
Shafik mobilized voters with his charismatic personality, savvy communications skills, and assurances of security by variously stating in interviews, speeches, and advertisements:
"I will clear Tahrir from the wandering kids because I love the revolution."

"Egypt needs a leader and certainly not a sheikh."

"Mubarak is my ideal person, but I happen not to agree with him."

"I will give the young Tahriri revolutionaries chocolates as I love their graffiti around the cities."

"I will bring law and order back to the streets of Egypt in 24 hours."
There is another dimension to the popularity of Shafik. It's psychological. He is a general, and Egypt's modern history is a history of military leadership and war memorials. The four leaders since 1952—Muhammad Naguib, Gamal Abdel Nasser, Anwar Sadat, and Hosni Mubarak are all military figures, and proudly tapped into their roles in Egypt's wars against Israel to solidify their patriotism and legitimize their leadership. It is no surprise that many of modern Cairo's bridges and monuments are named after generals and dates of these wars.
Currently, Egypt's political divisions are particularly evident in Cairo's public spaces—literally the public squares. The Muslim Brotherhood (MB) persisted in occupying Tahrir following the conclusion of the run-off election and managed, in this way, to re-invent Morsi as the symbol of the revolution. Preceding the election on June 12, the headline in the MB's official newspaper Freedom and Justice introduced Morsi's win in overseas voting as the "candidate of the revolution [who] leads throughout the Continents of the Globe." Various groups affiliated with the Occupy Tahrir movement, mostly organized and transported by the Muslim Brotherhood, have gathered in Tahrir since the last day of the run-off campaign on June 15 and are now calling for the removal of the military Amended Constitutional Declaration, re-establishment of the dissolved parliament, and the immediate release of all political detainees.
Meanwhile pro-Shafik groups are looking for alternative physical spaces to express their views and make their voices heard. On the day of Morsi's swearing-in ceremony, they called for a million man march of 'Egypt above all' in Nasr City at the Minassa Podium—where President Sadat was gunned down in 1981 during an annual victory parade by an Islamist fanatic and military infiltrator. Gathering in the Minassa and sometimes numbering in the thousands, these groups are calling for a civilian state and dissolution of the MB organization—this latter demand is in the hands of the Egyptian courts. And following Morsi's presidential decree to re-establish the Parliament on July 8, they accused him of treason for not upholding his oath of office. While fewer women than ever before are gathering in Tahrir Square, pro-Shafik groups have been putting women at the forefront, displaying nationalistic songs and pro-military signs.
I am glad that the Egyptian people have chosen courage over fear, progress over retreat; and in the words of the Egyptian novelist Alaa Al-Aswany in Al-Misri Alyawm newspaper on June 25, "the Egyptian revolution has achieved a great victory in dropping Shafik and electing Morsi." But Morsi's victory cannot be seen as a total mandate. The difference was only 883 thousand votes. Votes from the Egyptian diaspora might have put Morsi over the top. While Egyptians at home feel the weight and the pain of the continued revolution, the increase of crime and perturbance in their daily life, those who emigrated overseas might have voted for Morsi for other reasons. It can be argued that many votes for Morsi (in Egypt and from the diaspora) were votes against Mubarak rather than votes for the Muslim Brotherhood.
There is a beautiful painting on the wall of the American University in Cairo (see above)—"Tahrir Square" by the Egyptian revolutionary artist Omar Picasso in which Mubarak's face is merged with the face of Mohamed Hussein Tantawi, head of SCAF, alongside the faces of Amr Moussa, the former Presidential candidate and former secretary general of the Arab League, and Shafik. Written beneath their colorful faces are the words of an Egyptian proverb, "He who left son behind is not gone yet."
Mustafa Kamel, an Egyptian writer whose book, The Final Exit, was seen as predicting the revolt against Mubarak, echoes this view in our discussion of the matter. He said, "Shafik's victory would have been shameful for all Egyptians, erasing all sacrifices made in the name of the revolution."
In analyzing Morsi's victory, however, it is not an overstatement to say that the MB's marginal victory is worrisome for its leadership. It reflects diminishing popularity, narrowing constituencies, and a problematic connection to the young liberal revolutionaries.  The MB won roughly over 10 million votes in the November parliamentary election, carrying 37.5 seats of the total 508 parliamentary seats. The more conservative Islamist Salafi-affiliated candidates won roughly over 7 million votes, accounting for 27.8 seats. During the first round of the presidential elections the MB garnered 5,553,097 votes; representing only 25.30 percent of the 49 percent of voters who turned out for the poll, and only roughly 300 thousand votes ahead of Shafik. The populist revolutionary Hamdeen Sabahi, the favored candidate of the young revolutionaries, came in third place with 21.60 percent of the votes. Abd al-Moneim Abul Futuh, a more liberal Islamist, came in fourth with 17.93 percent of the votes. Numerically speaking, this means the MB lost fifty percent of those who had supported them in the parliamentary elections. In the presidential run-off, the MB's candidate Morsi got less than a million votes more than Shafik, despite the direct support they got from many revolutionary groups, Salafi party sympathizers, and Futuh supporters. In a July 5 interview with the editor of Egyptian daily al-Shrooq newspaper, the visiting spiritual leader of Tunisia's ruling Islamist Nahda party, Rashid al-Ghannushi, reminded the Egyptian public that Morsi has not won a political mandate, and that he should therefore rule through a unity government.
Morsi's fist week in office demonstrates his acceptance of this limited mandate, but also his disposition to challenge the military establishment. He has so far been navigating it well. He has tackled major obstacles between the MB and other segments of civil society groups as well as the military junta. While the military establishment insisted in the Amended Constitutional Declaration of July 17 that the elected president must take the oath before the High Constitutional Court, civil society groups and the MB insisted on bringing members of the dissolved parliament to Tahrir Square and having the President take the oath before them. He avoided a clash by visiting Tahrir on Friday, June 29 and giving a nationally televised speech in which he pledged to protect the Constitution, defend the country, and elevate the Egyptian people's power above all institutions in society. On Saturday, June 30, he paid a visit to the High Constitutional Court (HCC), where he took the oath before 18 black-robed judges of the HCC, chaired by Farouk Sultan, who, a few days earlier, was depicted by the Freedom and Justice newspaper as "corrupt felool, a reminiscent of the Mubarak era." Further, Morsi thanked the HCC judges for their "role in fostering democracy in the country." Two hours later, he was at Cairo University, where he met with the leading military junta, thanking them for their sacrifices and dedication to Egypt. In a nationalistic setting, interrupted by an outpouring of statements that "the people and the army are one hand," he promised to support the army against external enemies morally and financially, praising the armed forces. An hour later, he was part of a military parade, signaling the final transfer of power.
Beyond these official ceremonies, Morsi's domestic political personality is emerging while his regional intentions are not completely clear. On the domestic front, he is presenting himself as a populist Muslim leader, not a revolutionary, and so far, not exactly a nationalist either.
His religious image also stands in clear contrast to the secular Mubarak. He has memorized the entire Quran, which is a highly respected trait in traditional Muslim societies. He cites Quranic verses in all his speeches, projecting Egypt as a Muslim nation, who will support "Palestine and the Syrian people." He chose to attend Friday prayer at the Al-Azhar grand mosque, and didn't allow his security guards to disturb the crowd.
He has requested that his photos not adorn government buildings, and encouraged his supporters to give money to charity instead of spending it on newspaper ads congratulating him on his victory.
He cried at imam Qusi's Friday sermon on June 29, when the imam pointed out to him that he must fear God and act like Umar Ibn Khattab, the second Caliph after prophet Muhammad, who many Muslim scholars idealize as the symbol of a just ruler.
Many journalists have poked fun at Morsi's way of talking as being too religiously oriented, far from the norm of the promised non-religious state. On July 2, Emad Abdullatif of the al Tahrir daily newspaper wrote that "Morsi's Tahrir speech disenfranchised non-Muslim Egyptians." In the speech, Morsi used a traditional Muslim figure of speech: "I have been elected over you, but I am not better than you." He demonstrated that he was not wearing a bullet-proof vest as a sign of his connection to the people on the street. When confronted by a group Egypt's newspaper editors on June 28 on the imperatives of resigning from the MB if he is to be the leader of all Egyptians, he responded to the veteran journalist, Amr Hamzawy, that his resignation "was already done."
Not all Morsi's days are so far consecrated in rhetorical speculations of his intention. There are systematic efforts to appear as a pragmatic and a get-the-job-done leader. On one hand, he has adopted a 100-day project of addressing the most pressing needs in ordinary people's life: traffic problems, police and security issues, bread and fuel crises, etc. On the other hand, he has surprised the Egyptian public on July 8 by issuing a presidential decree ordering the return of the dissolved parliament, which is generally perceived by most Egyptian newspapers as defiant towards both HCC and SCAF. SCAF might not challenge the decree directly, but the HCC has, and the parliament, which has been very unpopular among Egyptians except with Islamist supporters, could become irrelevant as a respectful branch of government, and this could potentially weaken his presidency.
Regional figures see Morsi another way. Dubai's top police chief Dahi Khalfan responded to his victory by tweeting that "the victory of the Muslim Brotherhood is a doom and disaster for the Egyptians, the Arab and the Muslim nation…and he will come to us crawling."
In a June 30 statement, widely understood to be addressing his anxious Gulf neighbors, Morsi said "Egypt will not export its revolution" and "Arab national security is Egypt's priority." A more engaging step toward the monarchies of the Gulf was declared on July 8 that the President's first international trip would be to Saudi Arabia. This is a clear contrast to President Nasser, whose presidency never masked his ambition in exporting his revolution.
Turkey's foreign Minister, Ahmet Davutoğlu, was the first non-Arab statesperson to visit the President. He informed many Egyptian newspapers on July 5 that, "he has a blank paper for the President to list his needs from Turkey." Prime Minister Recep Erdoğan already contacted Morsi on Sunday, June 24 to express his congratulations. Islamists of the Arab Spring often speculate their eagerness to replicate the Turkish model of democracy. Morsi alluded to honoring the peace treaty with Israel, but refused to answer Israeli Prime Minister Benjamin Netanyahu's phone call despite Netanyahu's letter congratulating him on his historic victory. However, he accepted a phone call from the Iranian President Mahmoud Ahmadinejad, but made no promise to accept his invitation to visit Iran. This is a complete departure from the legacies of Sadat and Mubarak, whose leaning toward Washington and Israel was equally replicated in their aloofness from Tehran.
As Morsi settles into the presidency, major questions still lurk in the minds of many Egyptians: What type of leader will he be? What will be his relationship with the military establishment? How will he address the issues of poverty and corruption? Will Egypt duplicate Turkey's Islamist model of business-oriented government? Will it look like Pakistan's ever-failing state's institutions? Or will it curve its own model of Islamo-democratic state? As the Arabs say, Allah a'alam—only God knows.
For more on the Egyptian elections, please read our recent off the cuff discussion.—ed.