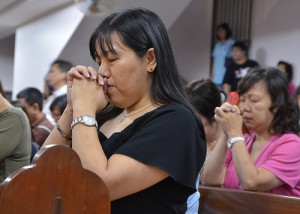 On April 2nd, Dallas District Court Judge Martin Hoffman ruled that it is legal to pray for God to harm someone as long as no one is actually threatened or harmed. Over at Religion News Service, David Gibson reports:
District Court Judge Martin Hoffman on Monday (April 2) dismissed a lawsuit brought by Mikey Weinstein against a former Navy chaplain who he said used "curse" prayers like those in Psalm 109 to incite others to harm the Jewish agnostic and founder of the Military Religious Freedom Foundation [MRFF] and his family.

Hoffman said there was no evidence that the prayers by Gordon Klingenschmitt, who had been endorsed for the Navy chaplaincy by the Dallas-based Chaplaincy of Full Gospel Churches, were connected to threats made against Weinstein and his family or damage done to his property.

According to the lawsuit, Klingenschmitt posted a prayer on his website urging followers to pray for the downfall of MRFF.
To read the full article click here.