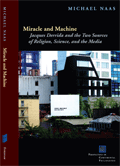 "Of Miracles and Machines: A Symposium on Derrida and Religion" will take place Thursday, March 22, at Fordham University, New York, NY.
The symposium is being held to mark the publication of Miracle and Machine: Jacques Derrida and the Two Sources of Religion, Science, and the Media (Fordham UP, 2012), by Michael Naas. Speakers will include, in addition to Naas himself, Penelope Deutscher (Northwestern University), Sarah Hammerschlag (Williams College), and Martin Hägglund (Harvard University).
For more information, see here.