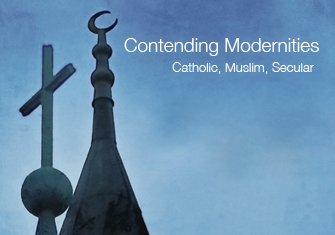 The University of Notre Dame's Kroc Institute for International Peace Studies concluded the New York City launch of its new research initiative, Contending Modernities, this morning with a four-woman panel discussion on "Women, Family, and Society in Islam and Catholicism." Moderated by Patrick Mason, the project's Associate Director for Research, the forum included brief commentary from Shahla Haeri, M. Cathleen Kaveny, Ingrid Mattson, and Jacqueline Moturi Ogega.
Mattson's and Ogega's remarks highlighted the possible contentions between religious and secular expectations and experiences of women, children, and families. Mattson, the first female president of the Islamic Society of North America, opened with the notion that religion is currently under attack by secularists. Only a few weeks ago, Mattson noted, Jürgen Habermas wrote in a New York Times Op-Ed piece that the German conception of citizenship has increasingly become one that necessarily entails the adoption by all immigrants of the values—described more and more in religious terms—of the "dominant culture." This, and similar notions held by secularists in other locales, bears directly on family dynamics. Mattson explained that when religious families in the United States choose to provide their children with a religious education and raise them amidst their own religious community, these practices are condemned by secularists as "isolationist." Mattson, however, wondered how else children could be raised in accordance with their parents' religious beliefs. Ogega took a less oppositional view of religious versus secular views and realms, providing chilling examples of violence against women in Liberia and Northern Uganda to drive home the point that questions concerning whether one has a religious, as opposed to secular or modern, identity are secondary to the issue of how women throughout Africa can overcome the violence, disease, and uncertaintly with which they are often faced. African modernity has entailed disease, war, and drugs, and has borne witness to changes in the religious marketplace as well as the rise of material religion. To forge a new modernity for Africa, Ogega posited, Africa's women need access to both secular and religious institutions, communities, and traditions.
Kaveny and Haeri, on the other hand, were concerned with the tensions present within, respectively, the Catholic and Islamic traditions in regards to the position and experience of women. Kaveny asked how Pope John Paul II could have made the claim, "I am the feminist pope!" and Haeri opened with a question once posed to her by a Jesuit scholar: "How can you be the unveiled granddaughter of an ayatollah?" The Catholic Church's ban on female ordination and opposition to abortion and contraception seemingly place it at odds with a great deal of feminist thought, but Kaveny highlighted three tensions within the Catholic tradition—first, that between the notions of equality and real and "inherent" differences between the sexes; second, the question of whether we inherit our identities via nature or via nurture(ing), or society; and third, the issue of competition versus collaboration between men and women—that could possibly illuminate how John Paul II could envision himself as a sort of feminist. Haeri, who observed that the idea of an ayotallah's unveiled granddauther was not the least bit paradoxical in 1950s and 1960s Iran, illustrated ways in which contemporary Iranian women, despite legal marginalization imposed by a particular interpretation of shari'a, have succeeded in mobilizing a wide cross-selection of citizens, including religiously devout women, secular women, and progressive ayatollahs, to further the cause of legal reform in favor of women's rights.
Further details on the panel discussion, as well as the remarks of yesterday's keynote speakers—Shaykh Ali Gomaa, Grand Mufti of Egypt, Jane Dammen McAuliffe, President of Bryn Mawr College, and John T. McGreevy, Professor of History and Dean of the College of Arts and Letters at the University of Notre Dame—will be available shortly at the Contending Modernities newly launched blog.