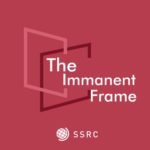 The Immanent Frame is pleased to announce a few changes to its editorial board, which was first constituted in March 2016 and continues to work alongside Editor Mona Oraby and Editorial Associate Olivia Whitener to create intellectually provocative content for the site.
We wish to thank outgoing board members Carlo Invernizzi Accetti (City College of New York), Elizabeth Shakman Hurd (Northwestern University), and Nancy Levene (Yale University) for more than three years of service, as their terms ended on August 31, 2019. Their commitment to the integrity and creativity of the site has helped TIF to flourish.
Further, we are excited to welcome the following three scholars to the editorial board:
The full editorial board membership can be found here.