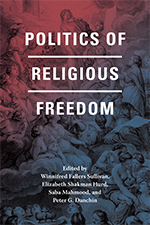 In a just-published edited volume, Politics of Religious Freedom, editors Winnifred Fallers Sullivan, Elizabeth Shakman Hurd, Saba Mahmood, and Peter Danchin ask contributors: what is religious freedom, why is it being promoted, and how are we talking about it? From the publisher:
Taking a global perspective, the more than two dozen contributors delineate the different conceptions of religious freedom predominant in the world today, as well as their histories and social and political contexts. Together, the contributions make clear that the reasons for persecution are more varied and complex than is widely acknowledged, and that the indiscriminate promotion of a single legal and cultural tool meant to address conflict across a wide variety of cultures can have the perverse effect of exacerbating the problems that plague the communities cited as falling short.



Many of the essays collected are the result of this earlier collaboration with The Immanent Frame.
For more on the book, click here.