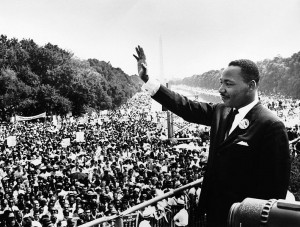 This Wednesday will mark the fiftieth anniversary of Martin Luther King, Jr.'s landmark "I have a dream" speech and the 1963 March on Washington. In commemoration of the great moment in American civil rights history, scholars and commentators have dedicated much of this past month to recognizing Dr. King's legacy. At Religion News Service, Yonat Shimron and Adelle M. Banks offer insights from academics of religion and discuss the speech's continued relevance.
To many in this country, "I have a dream" has a place of honor next to the Declaration of Independence, the Emancipation Proclamation and the Gettysburg Address. It celebrates the lofty ideals of freedom.

Over the years, the speech has become part of the nation's civil religion — a set of beliefs, and rituals that are partly religious and partly political and inform the country's core values of freedom, equality and rule of law.

Its place in America's common creed is perhaps best symbolized by the oversize statue of the slain civil rights leader on the National Mall, not far from the Lincoln Memorial where he delivered his famous oration.

But scholars say it would be a mistake to celebrate the speech without also acknowledging its profound critique of American values.

"On the one hand, he appeals to Scripture and the Constitution," said Josef Sorett, professor of religion and African-American studies at Columbia University. "At the same time he's also critiquing those texts because the nation has not lived up to what it professes to be."
The complete analysis can be read here. In recognizing the unmistakable role of religion and faith in the civil rights movement, Religion News Service has also compiled a series of interviews from religious leaders reflecting on the March on Washington's influence on their faith.