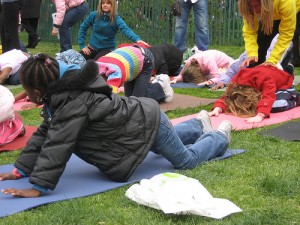 Is the practice of yoga inherently religious or can it be a form of secular exercise? A judge in California ruled on Monday that teaching yoga in public schools does not violate the U.S. Constitution's separation of church and state. The ruling came as a response to a lawsuit brought forth by parents in the Encinitas school district in California, where parents argued that teaching yoga in public schools was a form of indoctrination.
San Diego Superior Court Judge John S. Meyer recognized yoga as a religious practice but argued that its modern practice has become a "distinctly American cultural phenomenon." Encinitas school superintendent Tim Baird echoed, "We are not instructing anyone in religious dogma…Yoga is very mainstream."
The yoga classes, taught at nine campuses in the school district, are funded by the K.P. Jois Foundation, a nonprofit organization that promotes Ashtanga yoga. While Meyer noted that the Foundation's sponsorship is problematic—though as a 501(c)3 non-profit company, it cannot promote a religious affiliation—he emphasized that the school's yoga program has removed all cultural references and usage of its liturgical language, Sanskrit.
Candy Gunther Brown, a professor of religious studies at Indiana University, provided much of the testimony for the plaintiffs—her response to the trial can be read here. The plaintiff's lawyer, Dean Broyles, said that they would likely appeal the ruling, arguing, "There is a consistent anti-Christian bias in these cases and a pro-Eastern or strange religion bias."
This case is just the latest in a wider national debate over religion's place in public education. It is also not the first time that modern yoga's religious or secular nature has come into question in the context of the law. To explore this issue further, please see our previous postings on state regulations of yoga and on yoga's spirituality and tax exemption.