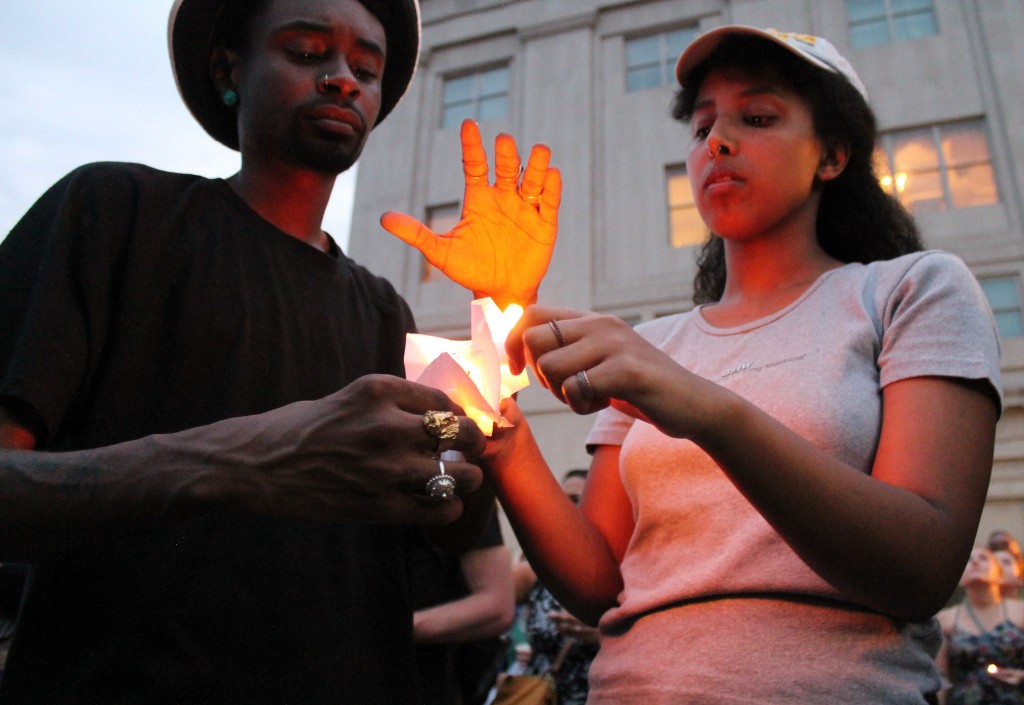 On June 16, a young white man motivated by white supremacist ideologies entered the Emanuel African Methodist Episcopal Church, a historic black Church in Charleston South Carolina, and murdered 9 of its congregants. This massacre in Charleston joins the lengthy list of incidents, drawing increased attention over the last year, in which black Americans were targets of racism and violence. It also continues the long history of burnt black churches in the country, in which Emanuel has not been the last.
In the wake of the attack on Emanuel, comments revolved around the contradictory aims that religion has served when it comes to race relations in the US. Religion has provided a way to sustain racial discrimination and justify violence against African-American communities; it has also been a source of healing and resistance for those same communities. How should religious individuals and groups confront this paradox? Questions of spiritual renewal are also posed by political activists who connect faith and activism while not necessarily identifying with any institutionalized religion.
The murders in Charleston raised complex issues around race and religion. Many attempts to address these have focused especially on three aspects:
Religion & White Supremacy

A number of articles have set out to discuss the collusion between religion and racism, or what one observer calls "Christianity's lingering complicity."
For R. Drew Smith at Religion Dispatches, "white supremacy is a much more central part of American socio-religious culture than generally acknowledged and … its investigation cannot be limited to 'lone wolf' racists such as the 21 year-old in Charleston." Addressing the history of racist-religious ideas and movements is one necessary step in exposing "cloaked versions" of white supremacy. This means taking a look at the (ab)use of the Calvinistic idea of predetermination by slave owners as well as at contemporary supremacist groups such as Christian Identity.
Mark Lewis Taylor, Professor at Princeton Theological Seminary, puts forward another link between religion and racism as he draws attention to the quasi-religious power of racism itself. Taylor revisits the long-standing history of discrimination, in which all groups of color "have been hoisted up—often by Western Christians—onto the altar of sacrifice to the god of white supremacy." But discrimination works not only as a social system "from without." Racist ideas and the fear of admitting them also exert an inner, psychological force. Quoting James Baldwin, Taylor argues that the fight against racism is existential: "one enters into battle with that historical creation, Oneself, and attempts to re-create oneself according to a principle more humane and more liberating."
Religious Leadership in Racist America

A symposium at Syndicate Theology connects religion and racism with thoughts on religious teaching and leadership. Reggie Williams speaks about the role of the black church today, a topic especially pressing in the face of enduring racism, which can make it difficult to believe in the existence of a just god. Is the role of the church "to help black people realize the American dream of equal opportunity" or "one of brokering resistance and revolution?" M. Shawn Copeland criticizes Christian organizations for not addressing pervasive racism and calls for a "critical re-education."
Christian teaching has done too little to confront and to challenge racist and discriminatory behavior at worship, at work, at school, at home, in restaurants, in stores, in playgrounds, on radio, on television, online. …[moreover, many] churches have not yet taught that the practice of racism and discrimination obstruct the realization of authentic Christian discipleship.
Kaya Oakes at Killing the Buddha also voices her disappointment with a church that neither sees nor responds to the realities of people of color, and what it means to feel abandoned by religion: "I can't find a church where there is talk about a Jesus who looks like those friends I grew up with, like my godfather, like my sister's husband. . . . I am white, but I am done with White Jesus."
Religion, Spirituality, and Activism

Critique of churches' failure to address issues of racial justice is, however, accompanied by the assertion that religion also continues to be a source of faith and strength. Some articles note that the link between faith and resistance extends well beyond religious communities.
Jesse James DeConto at Religion News Service reports on the biblical inspiration activist Bree Newsome drew on when illegally removing the Confederate flag at the South Carolina Statehouse. Hebah H. Farrag at Religion Dispatches discusses how contemporary activists' involvement with faith differs from earlier, well-known alliances between religion and the civil rights movement. In conversation with Patrisse Marie Cullors-Brignac, co-founder of Black Lives Matter, Farrag explores the spirit "essential to a new generation of civil rights activists" and a move from religion to spirituality. Cullors-Brignac is a member of a network of activists that denounces the "martyr mentality" often adopted in political struggle. They are "expressing a type of spiritual practice that makes use of the language of health and wellness to impart meaning, heal grief and trauma, combat burn-out and encourage organizational efficiency."
Tressie McMillan Cottom at The Atlantic turns to literature to find evidence for a new generation of "black politics without churchiness." For her, Ta-Nehisi Coates's new book Between the World and Me stretches the boundaries of black literature in ways akin to what she sees as a current reinterpretation of black politics. Cottom is struck by the book's departure from a theological rhetoric of hope, "solutionism," and thus eventually from the legacy of the civil-rights movement. At the same time, she sees Black Lives Matter activists "who seem to also be articulating a post-black church political language. Even as they welcome elders like the theologian and academic Cornel West as foreparents of the movement, some organizers are speaking without explicitly religious themes."