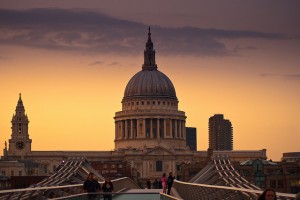 On July 14th, the General Synod of the Church of England voted to allow women to become bishops, taking a step toward resolving a long-running controversy that has divided traditionalist and progressive Anglicans all over the world, and caused friction between the church and the British government.
The Church of England is recognized by law as the country's official church and enjoys special privileges. But the church's decision in 2012 to continue barring women as bishops threatened relations between the church and the government, led by Prime Minister David Cameron, who supported the change, as did the deputy prime minister, Nick Clegg.

"This is a watershed moment for the Church of England and a huge step forward in making our society fairer," Mr. Clegg said in a statement. "Allowing women to become bishops is another long overdue step towards gender equality in senior positions."
The governing body, which consists of a House of Bishops, a House of Clergy, and a House of Laity, voted in 1992 to ordain women priests. A previous attempt to admit women to the bishopric failed in 2012, when the House of Laity rejected the changes by a small margin.
The Most Reverend Justin Welby, who as Archbishop of Canterbury is the spiritual head of the church, said he was "delighted" with the "hugely exciting" decision in an interview with the BBC. He acknowledged the role of changing attitudes toward gender in the broader society, but insisted that the church's decision was "essentially about theology, more than about culture.…It was a question of, what is right? Before God, in obedience to Jesus Christ, to be the church that he wants us to be, loving one another, and above all loving the society in which we live."
Traditionalists like Susie Leafe, an member of the House of Laity, expressed discomfort with the decision. "I believe that the Bible teaches us that men and women are equal, and they're different," she explained. "And therefore, within the Church and within the family, we have different roles to play. I think women will be undermined by this, rather than freed."
In a concession to opponents of the move, parishes that refuse to accept a woman bishop will be permitted to request a man instead.
The first women bishops could be appointed by the end of this year.