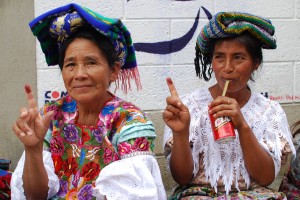 Is freedom of religion really "good for business"? The Immanent Frame contributor Elizabeth Shakman Hurd has a new essay at Al Jazeera America exploring the problems with the idea that neoliberal economics and religious freedom go hand in hand. Hurd tells the story of the K'iche', a Maya ethnic group living in western Guatemala, whose cultural and religious life depends on access to the highlands where they live. A community organization representing the K'iche' has been fighting to stop mining and hydroelectric projects that would affect their land. As Hurd explains,
Part of that story involves what counts as religion. Those who tie religious freedom and free markets fail to recognize the K'iche' people's relationship to their land (and their associated cultural and religious practices) as religious, so the fact that the changes associated with economic liberalization make it impossible for the K'iche' to continue their cultural and religious life does not register as depriving them of anything of significance. Neoliberal advocates convince governments to accept the property and resource rights of companies, and then religious freedom advocates reassure the indigenous population and others that they haven't suffered a religious setback. Both moves ensure that indigenous people lose their culture and capacity to carry on the lives they were living — as well as any claim to harm.
Moreover, Hurd writes, most legal protections for religious rights have a limited and partial understanding of what constitutes religious practice, "reflecting and privileging particular understandings of religion and particular conceptions of freedom."
Read the full essay at Al Jazeera America. Read our extensive discussion on the politics of religious freedom here.