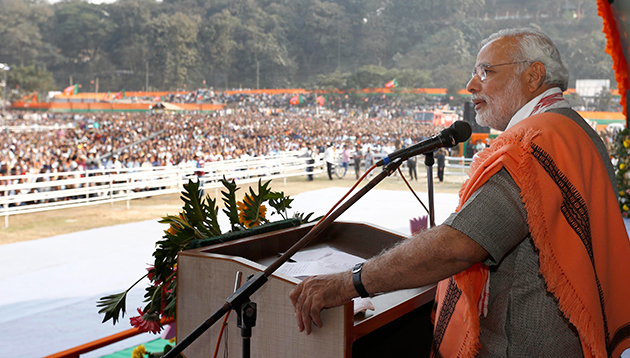 Monday, May 12th, marked the ninth and final phase of India's general elections, and the results announced in coming hours will likely declare Narendra Modi as India's prime minister. Modi, the candidate of the Bharatiya Janata Party (BJP)-led National Democratic Alliance, would then lead the world's largest democracy—one with a staggering 814.5 million registered voters—but has been denied entry into ours: for almost a decade, the Department of State has banned Modi from entering the United States. Looking back at how this came to be highlights the uneven history of religious freedom as part of American foreign policy.

In 2005, Modi applied for a diplomatic visa to travel to the United States for a conference sponsored by the Asian American Hotel Owner's Association. David C. Mulford, US Ambassador to India at the time, issued a statement that rejected Modi's visa application as he was "not coming for a purpose that qualified for a diplomatic visa." Additionally, the Department of State revoked Modi's tourist/business visa, citing section 212 (a) (2) (g) in the Immigration and Nationality Act (INA), which "makes any foreign government official who 'was responsible for or directly carried out, at any time, particularly severe violations of religious freedom' ineligible for a visa to the United States." The provision was added to the INA in 1998, as a result of the International Religious Freedom Act (IRFA); Modi remains the only person ever to have been banned under this clause.
The "severe violations" in question refer to his actions (or lack thereof) during the 2002 Gujarat riots, a three-day period of sectarian violence triggered when a train caught fire. Both the causes of and the circumstances surrounding the train incident and the widespread violence that followed have been contested. The train was carrying Hindu activists and pilgrims when it was attacked by a mob; it went up in flames and eventually killed 59 people. Further attacks, destruction of property, and looting soon followed, causing the death of more than 1,000 people, most of whom were Muslim.
Modi was (and remains) Chief Minister of Gujarat at the time, and was accused by multiple human rights activists and organizations of allowing—and possibly fostering—the anti-Muslim violence that occurred under his watch. However, the Gujarati commission of inquiry into the events has concluded that "there is absolutely no evidence to show that either the Chief Minister and/or any other Minister(s) in his Council of Ministers or Police offices had played any role in the Godhra incident or that there was any lapse on their part in the matter of providing protection, relief and rehabilitation to the victims of communal riots." Later, a 2012 Supreme Court-appointed special investigation team probe found no "prosecutable evidence" against Modi, who has expressed sadness over the events, but has denied culpability. Human Rights Watch, in their 2002 report, directly implicates state officials in the violence against Muslims, and the Department of State, in its 2005 decision to revoke Modi's existing visa, cited the Indian National Human Rights Commission report, which stated that Modi and the Gujarati government clearly failed to act to protect its people from the violence.  The ban has been in place ever since.
Why the Immigration and Nationality Act includes a provision that punishes foreign officials for violations of religious freedom goes back to 1998, when the IRFA was passed by Congress. The issue of religious persecution abroad gained momentum throughout the 1990s among Jews, Catholics, and human rights activists, and especially among Evangelical Protestants. Members of Congress took notice, and the issue took legislative shape when congressmen Frank Wolf and Arlen Specter introduced The Freedom from Religious Persecution Act in 1997. A modified version of that bill would eventually become the IRFA, which in Section 604 details the "inadmissibility of foreign government officials who have engaged in particularly severe violations of religious freedom," and amends the INA to include the clause that would later be used to ban Modi.
Since its passage, the IRFA has been subject to criticism for its perceived Christian bias, and skepticism about its diplomatic potential. Modi's visa application, then, was a chance for the IRFA and the newly created United States Commission on International Religious Freedom (USCIRF) to show their effectiveness. In the words of Felice D. Gaer, chair of the USCIRF at the time: "I wanted to turn this around, to make our focus broader." Additionally, it may have helped that Modi was not a national figure at the time—perhaps the Department of State did not see his ban as a big deal. But India's placement on USCIRF's "Watch List" (for the 2002 riots, as well as for its anti-conversion laws) has not been without dissent (even from Gaer herself), and the denial of Modi's visa has been called misguided.
Narenda Modi is running on a platform of economic growth and clean government, emphasizing his humble beginnings (and downplaying his Hindu nationalism). This stands in stark contrast to his main rival, Rahul Gandhi of the Congress Party-led United Progressive Alliance and heir to the Nehru–Gandhi political dynasty, whose party has been criticized for corruption and poor governance. But while Modi has many supporters, others, like Amartya Sen, have come out against him for his record on religious minorities and his style of rule.
In the likely case that Modi does indeed become India's prime minister (you can follow live results through Google), it is unlikely he would be kept out of the United Sates; leaders with far more questionable histories have entered the country, without issue, for official visits. House Resolution 417 reaffirms the denial of Modi's visa, but a new Congressional Research Service report indicates that a head of state is automatically eligible for a A-1 diplomatic visa and welcome to apply. Modi's ban may soon be over, but the history behind the ban illuminates the inconsistencies and tensions of religious freedom as a foreign policy objective, a subject discussed at length elsewhere on the site.