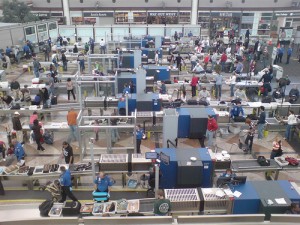 The Sikh Coalition, a civil-rights advocacy group with offices in New York, California, and Washington, D.C., released an app called Fly Right earlier this month. The app, available for Android and Apple's iOS platforms, makes it quick and easy to file complaints about discriminatory airport screening practices. The app is especially noteworthy in that the complaints registered are filed officially with TSA and the Department of Homeland Security. The official press kit for the app explains more:
For years, Sikh travelers have complained of discriminatory screening and pat downs at airport checkpoints across the United States. At some airports, the Sikh Coalition has found that Sikh travelers are subjected to secondary screening 100% of the time.

The Sikh Coalition created the application — called "FlyRights" —- to bridge the gap between Sikh, Muslim, South Asian, Latino, and other community concerns about airport profiling and official remedial action. Complaints filed through the innovative app will be reviewed as official complaints by the Transportation Security Administration (TSA) and Department of Homeland Security (DHS).

"The TSA asserts it doesn't profile. This application will allow us to better assess whether that's true," said Amardeep Singh, Director of Programs at the Sikh Coalition. "All travelers now have an easy way of speaking to their government on the issue of airport profiling."
The Coalition is already citing the app as a great success. Read more at Fly-rights.org.