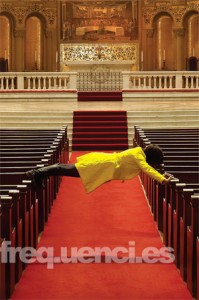 Frequencies has been named an Official Honoree of the 16th Annual Webby Awards! The collaborative genealogy of spirituality—produced by The Immanent Frame and Killing the Buddha and curated by Kathryn Lofton and John Lardas Modern—features written entries and visual artwork and was selected as an Honoree from a group of over 10,000 entries.
The Webby Awards is the leading international award honoring excellence on the Internet. Established in 1996 during the Web's infancy, The Webbys is presented by The International Academy of Digital Arts and Sciences, which includes an Executive 1,000-member body of leading Web experts, business figures, luminaries, visionaries and creative celebrities, and Associate Members who are former Webby Award Winners and Nominees and other Internet professionals.
Learn more about the Webbys here, peruse Frequencies here, and read our ongoing discussion series hosting reflections on the project here.