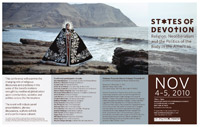 The Hemispheric Institute of New York is holding a conference this Thursday-Friday (Nov. 4-5), called "States of Devotion: Religion, Neoliberalism and the Politics of the Body in the Americas," on "the changing role of religious discourses and practices in the wake of the transformations wrought by neoliberal globalization upon communities, societies, and polities across the Hemisphere."
Speakers will include scholars Janet Jakobsen, Elizabeth McAlister, Ann Pellegrini, Winnifred Sullivan, and others,  as well as public figures like Reverend Billy (of the Church of Life After Shopping).
To guarantee a seat at the event, please RSVP to hemi.conference@nyu.edu. For further details see here.